A Study of Commonly Used Design Solutions for Green Roofs in Dhaka City and their Comparative Analysis
Keywords:
Keywords: Green roof, Rooftop landscape, construction techniques. UN SDG goals
Abstract
Although architects, landscape designers and building engineers have been designing and building green roofs in Dhaka, Bangladesh, there is a dearth of evidence based research regarding the best practices of setting design parameters, available solution types and performance. Based on the descriptive survey method, this study identifies three basic types of green roofs. The common construction and use related design parameters used by the local practitioners were identified. The three types of green roofs are compared on the basis of their performance against these design parameters. It was concluded that further research, proper policies and research based development in the practice is necessary to materialize the true potential of green roofs and roof top gardening in Dhaka which will address the UN sustainable development goals.
References
Ansel, W. & App, R.. Green Roof Policies - An International Review of Current Practices and Future Trends Retrieved on 20052017 from http://www.igraworld.com/links_and_downloads/images_dynamic/Green-Roof-Policies-IGRA.pdf
Asad, K. & Farzana, F. & Roy M R 2015 Greening and Roof Top Gardening: Scope and Opportunities in Bangladesh. Retrieved on 0505217 from http://gobeshona.net/wp-content/uploads/2015/01/Urban-Greening-and-Roof-Top-Gardening-Scope-and-Opportunities-in-Bangladesh.pdf
Berghage, R., D. Beattie, A. Jarrett, C. Thurig, F. Razaei, T. O'Connor. 2009. Green Roofs for Stormwater Runoff Control. U.S. Environmental Protection Agency, Washington, D.C., EPA/600/R-09/026.
Climate Protection Partnership Division 2014 Reducing Urban Heat Islands: Compendium of Strategies. Office of Atmospheric Program U.S. Environmental Protection Agency
Retrieved on 15062017 from https://www.epa.gov/sites/production/files/2014-greenroofscompendium_ch3.pdf
Dunnett NP Kingsbury N. 2004. Planting Green Roofs and Living Walls. Portland (OR) Timber Press.
Erica O., Jeremy L. , Brad B., Reid R. C. , Hitesh D., Nigel D., Stuart G., Manfred K.Karen K. Y. Liu, B. R.. Green Roofs as Urban Ecosystems: Ecological Structures, Functions, and Services. BioScience, Volume 57, Issue 10, 1 November 2007. Retrieved 20072017 from https://doi.org/10.1641/8571005
Frazer L. 2005. Paving paradise. Environmental Health Perspectives. 113: 457–462. Google Scholar
German, E and Pyne S. Dhaka: fastest growing megacity in the world: Retrieved on 20052017 from https://www.pri.org/stories/2010-09-08/dhaka-fastest-growing-megacity-world.html
Housing & Building Research Institute 2014. Bangladesh National Building Code Draft. Government of Bangladesh
Luckett, K., 2009, Green Roof Construction and Maintenance, Green Source
Mowla, Q. A. 2010 Green Roof Concept for Eco-Sustainability in the Context of Urban Dhaka. International seminar on 'GO GREEN; the Architecture of the New Order' ARCASIA, ACA-14 October 25-30, 2010 at Lahore, Pakistan. 2010 Retrieved on 22052017 https://www.academia.edu/6084128/
Green_Roof_Concept_for_Eco-Sustainability_in_the_Context_of_Urban_Dhaka
Sutton, Richard K. (2015) Green Roof Ecosystems, Springer
Ministry of Public Works and Housing: Schedule of Rates for Civil Works Fourteenth Edition: 2013. Government of Bangladesh
Weiler, K. & Barth, K.S. 2009 Green Roof Systems A Guide to the Planning, Design, and Construction of Landscapes over Structure John Wiley & Sons, Inc.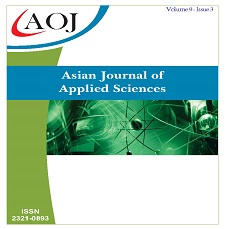 Downloads
How to Cite
Hossain, M., Mahmud, H. ., & Khan, S. I. (2021). A Study of Commonly Used Design Solutions for Green Roofs in Dhaka City and their Comparative Analysis. Asian Journal of Applied Sciences, 9(3). https://doi.org/10.24203/ajas.v9i3.6659
License
Copyright (c) 2021 Mehreen Hossain, Hassan Mahmud, Sujaul Islam Khan
This work is licensed under a Creative Commons Attribution-NonCommercial 4.0 International License.
Papers must be submitted on the understanding that they have not been published elsewhere (except in the form of an abstract or as part of a published lecture, review, or thesis) and are not currently under consideration by another journal published by any other publisher.
It is also the authors responsibility to ensure that the articles emanating from a particular source are submitted with the necessary approval.
The authors warrant that the paper is original and that he/she is the author of the paper, except for material that is clearly identified as to its original source, with permission notices from the copyright owners where required.
The authors ensure that all the references carefully and they are accurate in the text as well as in the list of references (and vice versa).
Authors retain copyright and grant the journal right of first publication with the work simultaneously licensed under a Attribution-NonCommercial 4.0 International that allows others to share the work with an acknowledgement of the work's authorship and initial publication in this journal.
Authors are able to enter into separate, additional contractual arrangements for the non-exclusive distribution of the journal's published version of the work (e.g., post it to an institutional repository or publish it in a book), with an acknowledgement of its initial publication in this journal.
Authors are permitted and encouraged to post their work online (e.g., in institutional repositories or on their website) prior to and during the submission process, as it can lead to productive exchanges, as well as earlier and greater citation of published work (See The Effect of Open Access).
The journal/publisher is not responsible for subsequent uses of the work. It is the author's responsibility to bring an infringement action if so desired by the author.