The Development of Modeling Physics Learning to Improve Critical Thinking Ability of Student
Keywords:
Physics modeling learning, critical thinking
Abstract
The low critical thinking skills of students in fundamental physics courses require an innovative learning model which is the main background in this research. This study aims to (1) know the description of the development of modeling physics learning (2) determine the validity of modeling physics learning to students' critical thinking skills. This type of research is Research and Development with a development model referring to the Wademan and Mckenney model. This research procedure includes preliminary studies, hypothetical model development, model operationalization, and model implementation. Collecting research data using validity assessment techniques and tests of physics competence and critical thinking skills. The data obtained were analyzed by descriptive quantitative. This research shows that (1) Modeling Physics Learning has five phases, namely submission and identification of problems with physical phenomena, provision of prerequisite information, physics modeling, finding solutions, evaluating processes and solutions, (2) The PPF learning model developed in this study is declared feasible because it fulfills the criteria of validity and effectiveness.
References
Alonso, M., & Finn, E. J. (1977). Fundamental University Physics: Vol. 1st Volume. Addison-Wesley Publisher.
Arends, R. I. (1997). Classroom Instruction and Management. McGraw-Hill Companies.
Arifuddin, M. (2009). Development of Mechanical Physics Modeling Through the Direct Teaching Basic Physics Class. Universitas Negeri Surabaya.
Arifuddin, M., Mastuang, M., & Mahardika, A. I. (2017). Improving Problem Solving Skill in Physics Through Argumentation Strategy in Direct Instruction Model. International Journal of Sciences: Basic and Applied Research (IJSBAR), 35(3), 348–353.
Borich, G. D. (2011). Observation Skills for Effective Teaching (6th Edition). Pearson.
Brewe, E., Sawtelle, V., Kramer, L. H., O'Brien, G. E., Rodriguez, I., & Pamelá, P. (2010). Toward equity through participation in Modeling Instruction in introductory university physics. Physical Review Special Topics - Physics Education Research, 6(1), 010106. https://doi.org/10.1103/PhysRevSTPER.6.010106
Danusso, L., Testa, I., & Vicentini, M. (2010). Improving Prospective Teachers' Knowledge about Scientific Models and Modelling: Design and Evaluation of a Teacher Education Intervention. International Journal of Science Education, 32(7), 871–905.
Dukerich, L. (2015). Applying Modeling Instruction to High School Chemistry To Improve Students' Conceptual Understanding. Journal of Chemical Education, 92(8), 1315–1319. https://doi.org/10.1021/ed500909w
Hake, R. R. (1999). ANALYZING CHANGE/GAIN SCORES*. American Educational Research Association's Division D, Measurement and Research Methodology.
Jackson, J., Dukerich, L., & Hestenes, D. (2008). Modeling Instruction: An Effective Model for Science Education. Science Educator, 17(1), 8.
Jensen, E. (2008). Brain-Based Learning. Student Library.
Joyce, B., Weil, M., & Calhoun, E. (2011). Models of Teaching: Model-Model Pengajaran (8th Ed). Pustaka Pelajar.
Koellner-Clark, K., & Lesh, R. (2003). Whodunit? Exploring Proportional Reasoning through the Footprint Problem. School Science and Mathematics, 103(2), 92–98. https://doi.org/10.1111/j.1949-8594.2003.tb18224.x
Liliasari. (2005). Membangun Keterampilan Berpikir Manusia Indonesia Melalui Pendidikan Sains. Pidato Pengukuhan Guru Besar dalam Pendidikan IPA, Bandung. http://staffnew.uny.ac.id/upload/132319972/penelitian/Prosiding%20Seminar%20Nasional%20IPA%20III%20tahun%202011.pdf
Plomp, T., & Nieveen, N. M. (2010). An introduction to educational design research: Proceedings of the seminar conducted at the East China Normal University, Shanghai (PR China), November 23-26, 2007. http://www.slo.nl/downloads/2009/Introduction_20to_20education_20design_20research.pdf/download
Ratumanan, T., & Laurens, T. (2006). Evaluasi Hasil belajar yang relevan dengan kurikulum berbasis kompetensi. Unesa University Press.
Salam, A. (2018). Teknik Pemodelan Fisika dalam Setting Pembelajaran Berbasis Learner Autonomy. Jurnal Fisika FLUX, 15, 47. https://doi.org/10.20527/flux.v15i1.4472
Santrock, J. W. (2011). Educational Psychology. Kencana.
Sawtelle, V., Brewe, E., & Kramer, L. H. (2010). Positive Impacts of Modeling Instruction on Self‐Efficacy. AIP Conference Proceedings, 1289(1), 289–292. https://doi.org/10.1063/1.3515225
Seechaliao, T., Natakuatoong, O., & Wannasuphoprasit, W. (2012). The Validation of an Instructional Design and Development Model Based on Engineering Creative Problem Solving Principles to Develop Creative Thinking Skills of Undergraduate Engineering Students. 30, 9.
Wijaya, C. (2010). Pendidikan Remedial: Sarana Pengembangan Mutu Sumber Daya Manusia. PT. Remaja Rosda Karya.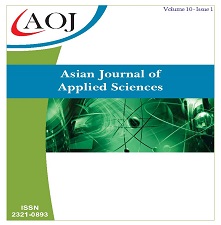 Downloads
How to Cite
Arifuddin, M., Thalib, S. B., jasruddin, jasruddin, & Ali, M. S. . (2022). The Development of Modeling Physics Learning to Improve Critical Thinking Ability of Student. Asian Journal of Applied Sciences, 10(1). https://doi.org/10.24203/ajas.v10i1.6842
License
Copyright (c) 2022 Muhammad Arifuddin, Syamsul Bachri Thalib, jasruddin jasruddin, Muhammad Sidin Ali
This work is licensed under a Creative Commons Attribution-NonCommercial 4.0 International License.
Papers must be submitted on the understanding that they have not been published elsewhere (except in the form of an abstract or as part of a published lecture, review, or thesis) and are not currently under consideration by another journal published by any other publisher.
It is also the authors responsibility to ensure that the articles emanating from a particular source are submitted with the necessary approval.
The authors warrant that the paper is original and that he/she is the author of the paper, except for material that is clearly identified as to its original source, with permission notices from the copyright owners where required.
The authors ensure that all the references carefully and they are accurate in the text as well as in the list of references (and vice versa).
Authors retain copyright and grant the journal right of first publication with the work simultaneously licensed under a Attribution-NonCommercial 4.0 International that allows others to share the work with an acknowledgement of the work's authorship and initial publication in this journal.
Authors are able to enter into separate, additional contractual arrangements for the non-exclusive distribution of the journal's published version of the work (e.g., post it to an institutional repository or publish it in a book), with an acknowledgement of its initial publication in this journal.
Authors are permitted and encouraged to post their work online (e.g., in institutional repositories or on their website) prior to and during the submission process, as it can lead to productive exchanges, as well as earlier and greater citation of published work (See The Effect of Open Access).
The journal/publisher is not responsible for subsequent uses of the work. It is the author's responsibility to bring an infringement action if so desired by the author.