Strategic Marketing Planning Practice in SMEs and A Case Study in Turkey
Keywords:
Marketing, Marketing management, Stratejik marketing planning
Abstract
This study aims to find whether strategic marketing planning is adequate in Small and Medium-sized Enterprises. Without efficient marketing, it is almost impossible for businesses to compete with others or to continue their businesses. This research studies the strategic marketing planning practices in SMEs in the Diyarbakır province of Turkey. The study was conducted on businesses in an organized industry site of Diyarbakır. For data collection, semi-structured interviews were made.  The population of the research consists of people in charge of the SMEs. The results show that the SMEs on which the study was conducted were not on an adequate level when it comes to strategic marketing planning. According to the findings, the businesses in the study used dynamic pricing. The reason for this practice can be competition, exchange rates and the fluctuations in interest rates.
References
Akoğul, S., and E. Tuna. (2017). "Kümeleme Ve Çok Boyutlu Ölçekleme Analizleri İle Endüstriyel Pazar Bölümlendirmesi Ve Etkili Ürünlerin Belirlenmesi", Çukurova Üniversitesi Sosyal Bilimler Enstitüsü Dergisi 25(1): 29–42.
Alan, H., and O. Yeloğlu. (2013). "Markalaşma ve Yenilikçilik" , İktisadi Yenilik Dergisi 1(1): 13–25.
Bijmolt, T. H. A., and R.T. Frambach. (1996). "Strategic Marketing Research", Journal of Marketing Managemen 12: 83–98.
Day, George S, and Robin Wensley. (1983). "Marketing Theory with Strategic", Journal of Marketing 47(4): 79–89.
Eroğlu, H., H. Kanıbir, and N. Eker. (2008). "Endüstriyel İşletmelerin Dağıtım Kanalı Seçimini Etkileyen Faktörlerin Belirlenmesine Yönelik Bir Çalışma", Süleyman Demirel Üniversitesi İktisadi ve İdari Bilimler Fakültesi Dergisi 13(1): 95–110.
Gilligan, C., and R. M.S. Wilson. (2009). "Strategic Marketing Planning", London and New York: Routledge.
Gürbüz, Sait, and Faruk Şahin. (2017). "Sosyal Bilimlerde Araştırma Yöntemleri", Ankara: Seçkin.
Kaygusuz, Sait, and Şükrü Dokur. (2009). "İşletmelerde Stratejik Planlama ve Bütçeleme", Bursa: Dora.
Keegan, Warren J. (2004). "Strategic Marketing Planning: A Twenty-First Century Perspective", International Marketing Review 21(1): 13–16.
Kotler, P. (1975). "Pazarlama Yönetimi", Ankara: Ayyıldız Matbaası.
Kotler, P. (2003). "Kotler ve Pazarlama", İstanbul: Sistem Yayıncılık.
Lackman, C. (2013). "Competitive Intelligence and Forecasting Systems : Strategic Marketing Planning Tool for SME ' s", Atlantic Marketing Journal 2(2): 98–111.
Mcdonald, M. (1996). "Strategic Marketing Planning : Theory , Practice and Research Agendas Marketıng", Journal of Marketing Management (12): 5–27.
Milichovsky, F., and I. Simberova. (2015). "Marketing Effectiveness : Metrics for Effective Strategic Marketing", Inzinerine Ekonomika-Engineering Economics 26(2): 211–19.
Mintzberg, H. (2001). "The Strategy Concept I: Five Ps For Strategy", California Management Review: 11–24.
Nacar, R., and U. Nimet. (2014). "Küresel Tüketici Kültürü Kavramıyla Birlikte Değişen Pazar Bölümlendirme Yaklaşımları: Uluslararası Pazarlama Literatürüne Bakış" Yalova Sosyal Bilimler Dergisi (8).
Özdemir, M. (2010). "Nitel Veri Analizi: Sosyal Bilimlerde Yöntembilim Sorunsalı Üzerine Bir Çalışma", Eskişehir Osmangazi Üniversitesi Sosyal Bilimler Dergisi 11(1): 323–43.
Pulendran, S., and R. Speed. (1996). "Planning and Doing: The Relationship between Marketing Planning Styles and Market Orientation", Journal of Marketing Management 12(1–3): 53–68.
Sirgy, M. J. (1996). "Strategic Marketing Planning Guided by the Quality-of-Life (QOL) Concept", ournal of Business Ethics 15: 241–59.
Tokol, T. (1998). "Pazarlama Yönetimi. Bursa", Vipaş.
Trout, J., and A Ries. (2003). "Pazarlama Savaşı", İstanbul: Optimist.
Varadarajan, R. (2010). "Strategic Marketing and Marketing Strategy: Domain, Definition, Fundamental Issues and Foundational Premises" , Journal of the Academy of Marketing Science 38(2): 119–40.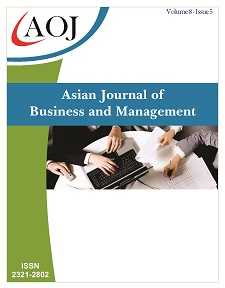 Downloads
How to Cite
Durmaz, Y., & Açıkgöz, A. (2020). Strategic Marketing Planning Practice in SMEs and A Case Study in Turkey. Asian Journal of Business and Management, 8(5). https://doi.org/10.24203/ajbm.v8i5.6433
License
Copyright (c) 2020 Asian Journal of Business and Management
This work is licensed under a Creative Commons Attribution-NoDerivatives 4.0 International License.
Papers must be submitted on the understanding that they have not been published elsewhere (except in the form of an abstract or as part of a published lecture, review, or thesis) and are not currently under consideration by another journal published by any other publisher.
It is also the authors responsibility to ensure that the articles emanating from a particular source are submitted with the necessary approval.
The authors warrant that the paper is original and that he/she is the author of the paper, except for material that is clearly identified as to its original source, with permission notices from the copyright owners where required.
The authors ensure that all the references carefully and they are accurate in the text as well as in the list of references (and vice versa).
Authors retain copyright and grant the journal right of first publication with the work simultaneously licensed under a Creative Commons Attribution License that allows others to share the work with an acknowledgement of the work's authorship and initial publication in this journal.
Authors are able to enter into separate, additional contractual arrangements for the non-exclusive distribution of the journal's published version of the work (e.g., post it to an institutional repository or publish it in a book), with an acknowledgement of its initial publication in this journal.
Authors are permitted and encouraged to post their work online (e.g., in institutional repositories or on their website) prior to and during the submission process, as it can lead to productive exchanges, as well as earlier and greater citation of published work (See The Effect of Open Access).
The journal/publisher is not responsible for subsequent uses of the work. It is the author's responsibility to bring an infringement action if so desired by the author.