Food and Feeding Habit of Two Mugilidae from Lagoon of Grand-Lahou (Côte d'Ivoire) :<em> Liza dumerili</em> (Steindachner, 1870) and <em>Liza falcipinnis </em>(Valenciennes, 1836)
Keywords:
Artisanal fishing, Stomach contents, Feeding, Phytoplanktonophagus, Côte d'Ivoire
Abstract
Study of the diet and feeding habits of 104 specimens of Liza dumerili (Steindachner, 1870) and 113 specimens of Liza falcipinnis (Valenciennes, 1836) coming from the artisanal fishing of the Grand-Lahou lagoon was carried out over the period from September 2008 to August 2009. Analysis of stomach contents revealed that these two species of fish feed mainly on diatoms and detritus. It appears that these species are phytoplanktonophagous and detritivores. The diet of Liza falcipinnis does not vary according to the size of the individuals. These two species specialize in the consumption of diatoms, particularly pennate diatoms.
References
Albaret JJ, Mugilidae. In : Poissons d'eaux douces et saumâtres de l'Afrique de l'ouest ; Paugy D., Lévêque C. et Teugels G G, (Eds) ; Edition IRD, Tome II, pp. 602-611, 2003.
Albaret J J, Legendre M, Biologie et écologie des mugilidés en lagune Ebrié (Côte d'Ivoire). Intérêt potentiel pour l'aquaculture lagunaire. Centre de recherche oceanographique, Rev. Hydrobiol. Trop., vol 18 n°4, pp. 281-303, 1985.
Djadji E L G, Atsé B C, Sylla S, Konan K J, Kouassi N J, Reproduction du Mugilidae Mugil cephalus Linné, 1758 dans deux complexes lagunaires (lagunes Ébrié et de Grand-Lahou) de la Côte d'Ivoire. Int. J. Biol. Chem. Sci. vol 7 n°4, pp. 1701-1716, 2013.
Diaby M, Distribution spatio-temporelle, pêche et dynamique de la population de Mugilidae (poisson, teléostéens) de la lagune de Grand-Lahou (Côte d'Ivoire). Thèse de Doctorat de l'Université Nangui Abrogoua, Abidjan, 2014.
Alla E Y GH, Adepo-Gourène A B, Stratégies de reproduction de trois espèces de Mugilidae, Liza dumerili (Steindachner, 1870), L. grandisquamis (Valenciennes, 1836) et L. falcipinnis (Valenciennes, 1836) dans la lagune Ebrié, Sud, Côte d'Ivoire. Afri. Scien. vol 16 n°1, pp. 279-299, 2020.
Durand J R, Skubich M, Recherche sur les lagunes ivoiriennes. Doc. C.R.O., Abidjan, 1979.
Lae R, Premières observations sur la pêche en lagune de Grand-Lahou. D.E.A. Océanographie tropicale, Université de Brest, 1982.
Komoé, K Da K P, Kouassi A M, Aka N M, Kamanzi A K, Adingra A A, Seasonal distribution of phytoplankton in Grand-Lahou lagoon, Côte d'Ivoire. Eur. J. Sci. Res., vol 26 n°3, pp 329-341, 2009.
Desikachary T V, Cyanophyta. Indian council of Agriculture research, New Delhi, 1959.
Compère P, Algues de la région du lac Tchad. IV. Diatomophycées. Cahier de l'ORSTOM, S. Hydrobiol., vol 9 n°4, pp 203-290, 1975.
Komàrek J, Anagnostidis K, Cyanoprokaryota - 1. Teil: Oscillatoriales. In : Ettlh., Gärtner. G., Heying. H. & Mollenhawer. D. (Eds.): Süsswasserflora von Mitteleuropa 19/1, Gustav Fisher, Jena / Stuttgart /Lübeck, 1998.
Dussart B H, Les copépodes. In: Flores et faunes aquatiques de l'afrique sahelo-soudanaise. Tome I ; Durant, J. R., et Lévêque, C., (Eds.), ORSTOM, Paris, vol 1; pp 333-356 1980.
Pourriot R, Les rotifères. In Flore et faune aquatiques de l'Afrique Sahélo-Soudanienne ; Durant, J. R. et Levêque, C., (Edit.), ORSTOM, Paris : pp 219-244, 1980.
Sandacz S, Kubo E,. Copepoda (Calanoïda e Cyclopoïda) de reservatorios do estado de Sao Paulo. B. Inst. Pesca. 9(ùnico) : pp 51-89, 1982.
Paugy D, Lévêque C, Régimes alimentaires et réseaux trophiques. In : Levêque, C., et Paugy, D., (Eds.), les poissons des eaux continentales africaines : Diversité, écologie et utilisation par l'homme. Editions IRD, Paris. pp 167-190, 1999.
Gray A E, Mulligan T J, Hannah R W, Food habits, occurrence and population structure of the bat ray, Myliobatis californica, in Humboldt Bay. California. Envir. Biol. Fish., vol 49, pp 227-238, 1997.
Lauzanne L, Régime alimentaire d'Hydrocyon forskalii (Pisces. Characidae) dans le lac Tchad et ses tributaires. Cah. ORSTOM. Sér. Hydrobiol., vol 9, pp 105-121, 1975.
Hyslop E J, Stomach contents analysis, a review of methods and their application. J. Fish Biol., vol 17, pp 411-429, 1980.
Amundsen P A, Gabler H M, Staldvik F J, A new approach to graphical analysis of feeding strategy from stomach contents data-Modification of the Costello (1990) method. J. Fish biol., 48 : 607-614, 1996.
Schoener T W, Non-synchronous spatial of lizards in patchy habitats. Ecology, vol 51 : pp 408-418, 1970.
Wallace R K, An assessment of diet overlap indexes. Transactions of American Fisheries Society.,vol 110, pp 72-76, 1981.
Costello M J,. Predator feeding strategy and prey importance: A new graphical analysis. J. Fish Biol., vol 36, pp 261-263, 1990.
Stat-Soft France, STATISTICA (logiciel d'analyse de données), version 7.1. www.statsoft.fr, 2006.
Ngouda S, Contribution à l'étude qualitative du régime alimentaire de quelques poissons dans l'estuaire du Sine Saloum (Sénégal). Document scientifique du centre de recherches océanographiques de Dakar-Thiaroye. N°142, 1997.
Dankwa H R, Blay Jr J, Yankson K, Food and feeding habits of Grey Mullets (Pisces: Mugilidae) in two estuaries in Ghana A. J. O. L. vol 8 n°1, 2005.
Blaber S J M, The food and feeding ecology of Mugilidae in the St Lucia lake system. Biol. J. Limn. Soc., vol 8, pp 267-277, 1976.
Blaber S J M, The feeding ecology and relative abundance of mullet (Mugilidae) in Natal and Pondland estuaries. Biol. J. Limn. Soc., vol 9, pp 259-275, 1977.
Fagade S O, Olaniyan C I O, The food and feeding interrelationship of the fishes in the Lagos lagoon. J. Fish. Biol., vol 5, pp 205-225, 1973.
Marais J F, Aspect of food intake, food selection and alimentary canal morphology of Mugil cephalus Linne, Liza tricuspidens Smith, L. richardsoni Smith and L. dumerili Steindachner. J.exp. mar. Biol. Ecol., vol 44, pp 193-210, 1980.
Asif A K, Masroor F, Feeding Ecology of the Grey Mullet, Rhinnomugil corsula (Hamilton) from the River Yamuna, North India. Asia.Fish. Scien., vol 7, pp 259-266, 1994.
Payne A, The relative abundance and feeding habit habit habit of the grey mullet species occurring in an estuaries in Sierra Leone, West Africa. Mar. Biol., vol 35, pp 277-286, 1976.
Blay J, Food and feeding habits of four species of juvenile mullet (Mugilidae) in a tidal lagoon in Ghana. J. Fish Biol., vol 46, pp 134-141, 1995a.
Bussard A, Capacités d'acclimatation des diatomées aux contraintes environnementales. Thèse de doctorat Museum national d'histoire naturelle, 2015.
King R P, Observations on Liza falcipinnis (Valenciennes, 1836) in Bonny River, Nigeria. Rev. Hydrobiol. Trop., vol 21 n°1, pp 63-70, 1988.
Payne A, Gut pH and digestive strategies in estuarine grey mullet (Mugilidae) and tilapia (Cichlidae). J. Fish. Biol., vol 13, pp 627-629, 1978.
Abé J, Bakayoko S, Bamba S B, Koffi K P, Morphologie et hydrodynamique à l'embouchure du fleuve bandama. ur. Ivoir. Océanol. Limnol. Abidjan., vol 2, pp 9-24, 1993.
Dufour P, Production primaire d'une lagune tropicale (Ebrié, Côte d'Ivoire). Facteurs naturels et anthropiques. Thèse université Pierre et Marie-Curie, paris, 1984.
Bernadon, M, Vall M O M, Le Mulet en Mauritanie : biologie, écologie, pêche et amenagement. Projet PRCM, 2005.
Worms J, Mouloud A O E, les savoirs traditionnels des Imraguen liés à la pêche. Projet CONSDEV, 2002.
Blay J, Food habits and diel feeding periodicity of juvenile sicklefin mullet, Liza falcipinnis (Pices: Mugilidae) in a closed tropical lagoon. Arch. Hydrobiol, vol 135, n°2, pp 271-281, 1995b.
Pusey, B J Bradshaw S D, Diet and dietary overlap in fishes of temporary waters of southwestern Australia. Ecol. Freshwater. Fish, 5, pp 183-194, 1996.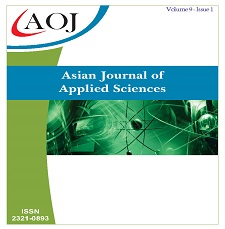 Downloads
How to Cite
Kouakou, I. K. F. ., Kone, T. ., Kouato, F., & N'da, K. (2021). Food and Feeding Habit of Two Mugilidae from Lagoon of Grand-Lahou (Côte d'Ivoire) :<em> Liza dumerili</em> (Steindachner, 1870) and <em>Liza falcipinnis </em>(Valenciennes, 1836). Asian Journal of Applied Sciences, 9(1). https://doi.org/10.24203/ajas.v9i1.6467
License
Copyright (c) 2021 Irène Kessia Fokouo Kouakou, Tiehoua Kone, Fulgence Kouato, Konan N'da
This work is licensed under a Creative Commons Attribution-NonCommercial 4.0 International License.
Papers must be submitted on the understanding that they have not been published elsewhere (except in the form of an abstract or as part of a published lecture, review, or thesis) and are not currently under consideration by another journal published by any other publisher.
It is also the authors responsibility to ensure that the articles emanating from a particular source are submitted with the necessary approval.
The authors warrant that the paper is original and that he/she is the author of the paper, except for material that is clearly identified as to its original source, with permission notices from the copyright owners where required.
The authors ensure that all the references carefully and they are accurate in the text as well as in the list of references (and vice versa).
Authors retain copyright and grant the journal right of first publication with the work simultaneously licensed under a Attribution-NonCommercial 4.0 International that allows others to share the work with an acknowledgement of the work's authorship and initial publication in this journal.
Authors are able to enter into separate, additional contractual arrangements for the non-exclusive distribution of the journal's published version of the work (e.g., post it to an institutional repository or publish it in a book), with an acknowledgement of its initial publication in this journal.
Authors are permitted and encouraged to post their work online (e.g., in institutional repositories or on their website) prior to and during the submission process, as it can lead to productive exchanges, as well as earlier and greater citation of published work (See The Effect of Open Access).
The journal/publisher is not responsible for subsequent uses of the work. It is the author's responsibility to bring an infringement action if so desired by the author.