A Study on Experiential Motivation Customer Satisfaction and Re-rent Intention of the Sharing Economy Users
A Case Study of YouBike in Colleges
Keywords:
sharing economy, experiential motivation, customer satisfaction, re-rent intention
Abstract
From the experience and opinions of YouBike users, this study aims to investigate their experiential motivation, customer satisfaction and re-rent intention. The purposes of the study includes: (a) explore the actual use situation of YouBike in Taiwan colleges; (b) understand the correlation between experiential motivation, customer satisfaction and re-rent intention of YouBike users in Taiwan colleges; (c) understand whether there is a significant influence on experiential motivation, customer satisfaction and re-rent intention of YouBike users in Taiwan colleges. In this study, the questionnaire survey was conducted. The objects were YouBike users on campus in Taiwan. Descriptive analysis, Independent-Sample t test, and Regression Analysis were used as the statistical analysis. All the results were analyzed by SPSS statistical software. The results show that: The majority of YouBike users are the students with regular exercise habits (around one to two times a week); most college students rent YouBike less than 4 times a month and they usually spend less than 4 hours riding YouBike as short-distance transportation. At last, the regression analysis was implemented and revealed that there is a significant correlation between experiential motivation, customer satisfaction, and re-rent intention. Therefore, the better the degree of satisfaction after riding the bike, the more re-rent intention is. At the end, recommendations were made for future improvements.
References
Botsman, R. (2013, November 21). The Sharing Economy Lacks A Shared Definition. Retrieved from http://www.fastcoexist.com/3022028/the-sharing-economy-lacks-a-shared-definition
Chang, F.H., & Tsai, C.Y. (2016). Influence of the sports tourism attractiveness, motivation, and experience on revisit intentions. Journal of Social Sciences & Humanities Research, 2(1), 1-10.
Cheng, K.H. (2011) . A study on the motivation and satisfaction of cyclists' participation in leisure sports in Yunlin County (Unpublished master's thesis). National Yunlin University of Science and Technolgy, Yunlin County, Taiwan.
Chung, Y.C. (2014). The influence of organic farmers' market product knowledge and relationship quality on repurchase intention (Master's thesis). Cheng Shiu University, Kaohsiung City, Taiwan.
Datta, V., & Vasantha, S. (2013). Experiential value, customer satisfaction and customer loyalty: An empirical study of KFC in Chennai. Indian Journal of Applied Research 3(9), 334-337. doi: 10.15373/2249555X/ SEPT2013/100.
Helm, S. (2007). The role of corporate reputation in determining investor satisfaction and loyalty, Corporate Reputation Review, 10(1), 22-37.
Huang, L.R. (2015). A study of user satisfaction of Taipei City Youbike (Master's thesis). Chinese Culture University, Taipei City. Taiwan.
Lai, M.C., & Chou, F.S. (2010). The effect of experiential value, perceived quality and customer satisfaction on customer lifetime value: An example using Star Cruises. Chinese Business Review, 9(11), 55-60. doi: 10.17265/1537-1506/2010.11.008
Lam, S.Y., Shankar, V., Erramilli, M.K., & Murthy, B. (2004). Customer value, satisfaction, loyalty, and switching costs: An illustration from a business-to-business service context. Journal of the Academy of Marketing Science, 32(3), 293.
Pine II, B.J. & Gilmore, J.H. (1998). Welcome to the Experience Economy, Harvard Business Review, 4: 97-105.
Ting, Y.F. (2014).The Study of Experiential Motivation, Satisfaction and Re-lease Intention in YouBike Users (Master's thesis). Retrieved from https://ndltd.ncl.edu.tw/cgi-bin/gs32/gsweb.cgi/login?o=dnclcdr&s=id=%22102UT005571011%22.&searchmode=basic
Wang, C.F. (2015). Antecedents of revisit intention: hiatus as a moderator (Master's thesis). National Kaohsiung University of Applied Sciences, Kaohsiung City, Taiwan.
Wosskow, D. (2014). Unlocking the sharing economy. (Department for Business Innovation & Skills, UK Government. Ref: BIS/14/1227) London, UK: www.gov.uk/bis.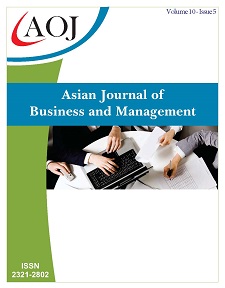 Downloads
How to Cite
Wu, X. Q., & Lin, K. W. (2022). A Study on Experiential Motivation Customer Satisfaction and Re-rent Intention of the Sharing Economy Users: A Case Study of YouBike in Colleges. Asian Journal of Business and Management, 10(5). https://doi.org/10.24203/ajbm.v10i5.7040
License
Copyright (c) 2022 Asian Journal of Business and Management
This work is licensed under a Creative Commons Attribution-NoDerivatives 4.0 International License.
Papers must be submitted on the understanding that they have not been published elsewhere (except in the form of an abstract or as part of a published lecture, review, or thesis) and are not currently under consideration by another journal published by any other publisher.
It is also the authors responsibility to ensure that the articles emanating from a particular source are submitted with the necessary approval.
The authors warrant that the paper is original and that he/she is the author of the paper, except for material that is clearly identified as to its original source, with permission notices from the copyright owners where required.
The authors ensure that all the references carefully and they are accurate in the text as well as in the list of references (and vice versa).
Authors retain copyright and grant the journal right of first publication with the work simultaneously licensed under a Creative Commons Attribution License that allows others to share the work with an acknowledgement of the work's authorship and initial publication in this journal.
Authors are able to enter into separate, additional contractual arrangements for the non-exclusive distribution of the journal's published version of the work (e.g., post it to an institutional repository or publish it in a book), with an acknowledgement of its initial publication in this journal.
Authors are permitted and encouraged to post their work online (e.g., in institutional repositories or on their website) prior to and during the submission process, as it can lead to productive exchanges, as well as earlier and greater citation of published work (See The Effect of Open Access).
The journal/publisher is not responsible for subsequent uses of the work. It is the author's responsibility to bring an infringement action if so desired by the author.