Contemporary Business Transformation Trends and Opportunities in Corporate Companies in the Global Economy
Keywords:
Business transformation, Business trends, Business opportunities, Corporate Structuring, Global Economy
Abstract
Looking forward, 2020 will be a time of some retribution for digital initiatives and that is eventually uplifting news. 2020 will even now observe the fast scaling of advanced activities across businesses. The previous barely any a long time in business have been described by a progression of basic moves in the manner organizations work and structure themselves. As they continued looking for more prominent efficiencies, economies of scale or lower costs, organizations have held onto patterns, for example, redistributing, offshoring, and mergers and acquisitions, while fast mechanical advancement has changed the manner in which data is shared and imparted, and the manner in which business cycles and exchanges are directed. In spite of the fact that patterns, for example, offshoring, mergers and acquisitions, and enormous scope IT ventures can have various targets and require various aptitudes, they are largely instances of business change. Each kind of task expects heads to set clear goals, to guarantee that those points are perceived by everybody in the association, and to zero in cautiously on the usage stage so the destinations are accomplished. To put it plainly, each venture is tied in with overseeing huge scope change – something that in the present exceptionally circulated, worldwide association is a perplexing and requesting undertaking. In light of an overview and methodical surveys investigates the patterns that are driving business change and takes a gander at the difficulties and openings introduced by this indispensable part of contemporary business.
References
E-magazine, T. (2012). Digitization Enables the Deep Transformation of Our Society. Trends Magazine, (105), 5–8.
Dubgorn, A., Abdelwahab, M. N., Borremans, A., & Zaychenko, I. (2019). Analysis of digital business transformation tools. In Proceedings of the 33rd International Business Information Management Association Conference, IBIMA 2019: Education Excellence and Innovation Management through Vision 2020 (pp. 9677–9682).
Pînzaru, F., Zbuchea, A., & Viţelar, A. (2019). Digital transformation trends reshaping companies. Proceedings of the International Conference on Business Excellence, 13(1), 635–646. https://doi.org/10.2478/picbe-2019-0056
Li, F. (2020). The digital transformation of business models in the creative industries: A holistic framework and emerging trends. Technovation, 92–93.
Kabanda, G. (2014). The Centrality of ICTs as A Catalyst for Economic Transformation and Growth in Zimbabwe. International Journal of Emerging Technology and Advanced Engineering, 4(11), 474–483.
Skorupa, J. (2017). Embracing Digital Transformation. Grocery Tech Trends Study, 2(1), 16.
Zolnowski, A., Christiansen, T., & Gudat, J. (2016). Business model transformation patterns of data-driven innovations. In 24th European Conference on Information Systems, ECIS 2016.
Reshi, Y. S., & Khan, R. A. (2014). Creating Business Intelligence through Machine Learning: An Effective Business Decision Making Tool. Information and Knowledge Management, 4(1), 65–75.
Jasmine, K. S., & Sudha, M. (2014). Business transformation though cloud computing in sustainable business. In Business Transformation and Sustainability through Cloud System Implementation (pp. 44–57).
Condea, C., Cruickshank, D., & Hagedorn, P. (2016). What co-innovation can mean for digital business transformation: Sharing and managing risk to achieve IT business innovation. In Shaping the Digital Enterprise: Trends and Use Cases in Digital Innovation and Transformation (pp. 287–307).
Mushore, R., & Kyobe, M. (2019). Optimizing the business value of digital transformation by aligning technology with strategy, work practices and stakeholder interests. In 2019 IEEE 10th Annual Information Technology, Electronics and Mobile Communication Conference, IEMCON 2019 (pp. 403–408).
UNDERSTANDING TRANSFORMATION: TRENDS AND DYNAMICS OF CHANGE. (2015). International Journal of Business and Management Studies, 7(2), 16–30.
Deitelhoff, N. (2009). The business of security and the transformation of the state.
Christensen, J. (2016). Digital economics: The digital transformation of global business. BoD – Books on Demand.
Reis, J., Amorim, M., Melao, N., & Matos, P. (2018). Trends and Advances in Information Systems and Technologies. 10th European Conference on Information Systems Management. Academic Conferences and publishing limited (Vol. 745).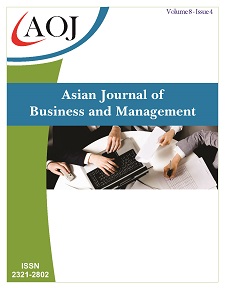 Downloads
How to Cite
Prabhu, J. J. (2020). Contemporary Business Transformation Trends and Opportunities in Corporate Companies in the Global Economy. Asian Journal of Business and Management, 8(4). https://doi.org/10.24203/ajbm.v8i4.6379
License
Copyright (c) 2020 Asian Journal of Business and Management
This work is licensed under a Creative Commons Attribution-NoDerivatives 4.0 International License.
Papers must be submitted on the understanding that they have not been published elsewhere (except in the form of an abstract or as part of a published lecture, review, or thesis) and are not currently under consideration by another journal published by any other publisher.
It is also the authors responsibility to ensure that the articles emanating from a particular source are submitted with the necessary approval.
The authors warrant that the paper is original and that he/she is the author of the paper, except for material that is clearly identified as to its original source, with permission notices from the copyright owners where required.
The authors ensure that all the references carefully and they are accurate in the text as well as in the list of references (and vice versa).
Authors retain copyright and grant the journal right of first publication with the work simultaneously licensed under a Creative Commons Attribution License that allows others to share the work with an acknowledgement of the work's authorship and initial publication in this journal.
Authors are able to enter into separate, additional contractual arrangements for the non-exclusive distribution of the journal's published version of the work (e.g., post it to an institutional repository or publish it in a book), with an acknowledgement of its initial publication in this journal.
Authors are permitted and encouraged to post their work online (e.g., in institutional repositories or on their website) prior to and during the submission process, as it can lead to productive exchanges, as well as earlier and greater citation of published work (See The Effect of Open Access).
The journal/publisher is not responsible for subsequent uses of the work. It is the author's responsibility to bring an infringement action if so desired by the author.