Effects of Agricultural Extension Services on Leaf Vegetables Farmers Use of Agro-Chemicals in Imo State, Nigeria
Keywords:
Extension Services, Leaf Vegetables, Farmers, Agro-chemicals, Imo State.
Abstract
This study was designed to analyze the effects of agricultural extension services on leaf vegetables farmers' use of agro-chemicals in Imo State, Nigeria. The study described socioeconomic characteristics of leaf vegetables farmers that use agro-chemicals, ascertained the role of extension services on use of agro-chemicals by leaf vegetable farmers, ascertained the sources of information on the use of agro-chemicals among leaf vegetable farmers, determined the influence of extension services on agro-chemicals use by leaf vegetable farmers and determined the extension variables influencing use of agro-chemicals by leaf vegetables farmers. Data were collected in 2021 with structured and validated questionnaire from 128 proportionately and randomly selected leaf vegetables farmers that use agro-chemicals in Imo State. Data were analyzed using descriptive statistics such as mean, frequency distribution and percentages as well as econometric tools of bivariate and logit regression models. Major roles of extension services in farmers' use of agro-chemicals for leaf vegetables production were acting as catalyst to speed up adoption rate, technology transfer and source of information. The major sources of information to the leaf vegetables farmers on agro-chemicals use were fellow farmers association and traders on vegetables. Extension services positively and significantly influenced leaf vegetables farmers' use of agro-chemicals. The agricultural extension variables influencing use of agro-chemicals by leaf vegetables farmers were availability of certain communication media, extension agents familiarity, relevance of subject matter, size of extension staff, size of audience, frequency of use of familiar teaching methods, farmers' satisfaction with extension information, perceived usefulness of extension information, perceived quality of extension staff and relative cost of the extension teaching methods. There is need for extension services to intensify efforts at visiting and training leaf vegetable farmers on the appropriate application techniques of agro-chemicals to their vegetables to minimize the hazardous effects of the agro-chemicals on farmers' health and the environment and consequently increase productivity and farm income.
Keywords: Extension services, leaf vegetables, farmers, agro-chemicals, Imo State.
References
Afari-Sefa, V; Asare-Bediako, E; Kenyo, L. and Micah, J.A. (2015). Pesticide Use practices and perceptions on vegetable farmers in the cocoa Belts of the Ashanti and Western Regions of Ghana. Adv. Crop Science Tech., 3:174.
Amanze, B; Eze, C.C and Eze, V. (2010). Factors influencing the use of fertilizer in Arable Crop production among small holder farmers in Owerri Agricultural zone of Imo State. Academia Arena, 2(6):90-96.
Fox, J. (1984). "Linear statistical models and related methods" New York: John Willey & Sons.
Funmilayo, O.K; Muhammad-Lawal, A., and Okwumi, I.G. (2016). Analysis of agro-chemical inputs use in maize production among small scale farmers in Iwo Local government, Osun State, Nigeria. International Journal of Agricultural Management and development, 6(1): 43-50.
Gideon, D.A; Dennis, S.E and Robert, A. (2018). Agricultural Extension and its effects on farm productivity and income: insight from Northern Ghana. Journal of Agriculture and food security, 7:74-84.
Gujarati, N. (1998). Basic Econometrics, 2nd edition. New York, McGraw Hill Book Company, Pp. 32-33.
Jamala, G.Y.I; Ari, B.M; Tsunda, B.M; and Waindu, C. (2013). Assessment of Agro-chemicals utilization by small-scale farmers in Guyuk, Adamawa State, Nigeria. IOSRB Journal of Agriculture and veterinary Science, 6(2):51-59.
Labuza, T.P (1976). Drying food technology improves on the sun. Food technology, 1(30): 37-46.
Marisamari, J.Y. (2001). Way of revamping agro-based industries in Nigeria. Central bank publication occasional paper, 2:16-19.
Mathews, G.A. (2008). Attitudes and behaviors regarding use of crop protection products. A survey of more than 8500 small holders in 26 countries. Crop protection, 27:834-846.
Mustapha, S.B (2020). Analysis of use of Agro-chemicals among vegetable farmers in Maiduguri and its Environs, Nigeria. African Journal of sustainable Agricultural Development, 1(4):106-117.
National Agricultural Extension and research Liaison system (NAERLS) (2015). "NAERLS south East zone Extension Briefs" Ahmadu Bello University, Zaria, 23 pp.
National Population Commission (NPC). (2006): Nigeria Census figure, Abuja, Nigeria.
Ngowil, A.V.F; Mbise, T.J; Ijani, A.S.M; London, L and Ajayi, O.C (2007). Pesticides use by small holder farmers in vegetable production in Tanzania. Crop protection Journal, 26(11): 1617-1624.
Ntow, W.J; Gijzen, H.J; Kelderman, P. and Drechsel, P. (2006). Farmer perceptions and pesticides use practices in vegetable production in Ghana. Pest Management Science, 62:356-365.
Odebode, S.O (2008). Appropriate technology for cassava processing in Nigeria: Users point of view. Journal of International women's studies, 9(3):2691.
Ohajianya, D.O and Onu, D.O (2004). Economics of fertilizer use inn vegetable production in Nigeria. Tropical Agriculture Trinidad. 81(4):253-258.
Ohajianya, D.O. (2004). Socio-economic determinants of multiple use of water for irrigation in Kaduna state Nigeria. Journal of modeling and simulation Techniques in Enterprises, AMSE France, 25(1): 67-77.
Oluwalana, T; Akinbosoye, T.B.S and Okeleke, S.O (2019). Effects of Agricultural Extension Services on Vegetable farmers production in Ifon Orolu Local Government of Osun State. Direct Research Journal of Agriculture and food Science, 7(12):436-444.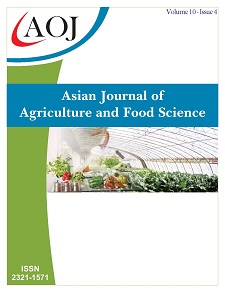 Downloads
How to Cite
Enwerem, V. A., Osuagwu, O. C., Okereke-Ejiogu, E. N., Ajaero, J. O., Osugiri, I. I., & Ohajianya, D. O. (2022). Effects of Agricultural Extension Services on Leaf Vegetables Farmers Use of Agro-Chemicals in Imo State, Nigeria. Asian Journal of Agriculture and Food Sciences, 10(4). https://doi.org/10.24203/ajafs.v10i4.7007
License
Copyright (c) 2022 Vitus Ayo Enwerem, Olivia Chizoma Osuagwu, Eucaria Ngozi Okereke-Ejiogu, Joseph Onyewuchi Ajaero, Irenaeus Iro Osugiri, Donatus Otuiheoma Ohajianya
This work is licensed under a Creative Commons Attribution-NonCommercial 4.0 International License.
Papers must be submitted on the understanding that they have not been published elsewhere (except in the form of an abstract or as part of a published lecture, review, or thesis) and are not currently under consideration by another journal published by any other publisher.
It is also the authors responsibility to ensure that the articles emanating from a particular source are submitted with the necessary approval.
The authors warrant that the paper is original and that he/she is the author of the paper, except for material that is clearly identified as to its original source, with permission notices from the copyright owners where required.
The authors ensure that all the references carefully and they are accurate in the text as well as in the list of references (and vice versa).
Authors retain copyright and grant the journal right of first publication with the work simultaneously licensed under a Attribution-NonCommercial 4.0 International that allows others to share the work with an acknowledgement of the work's authorship and initial publication in this journal.
Authors are able to enter into separate, additional contractual arrangements for the non-exclusive distribution of the journal's published version of the work (e.g., post it to an institutional repository or publish it in a book), with an acknowledgement of its initial publication in this journal.
Authors are permitted and encouraged to post their work online (e.g., in institutional repositories or on their website) prior to and during the submission process, as it can lead to productive exchanges, as well as earlier and greater citation of published work (See The Effect of Open Access).
The journal/publisher is not responsible for subsequent uses of the work. It is the author's responsibility to bring an infringement action if so desired by the author.